The Windmill Medical Centre delivers a range of specialised primary care services in a modern, spacious surgery in the heart of Skerries
COVID 19 Booster Vaccines
All information on the covid booster can be found on our Covid Vaccine Tab

www2.hse.ie/screening-and-vaccinations/covid-19-vaccine/get-the-vaccine/booking/


Second Booster Dose
A second booster vaccine is now recommended for some people who are at higher risk from serious COVID-19 illness.
You should get a second booster if you are:
65 years or older, or
12 years or older with a weak immune system

Please see our Covid-19 Tab for more information on this

------------------------------------------------

EU Digital COVID Certificate Self Service Portal
covidcertificateportal.gov.ie/en-US/
-----------------------------------------------------------------------------------

Coronavirus COVID-19 - How we are operating
The Windmill Medical Centre remains open throughout the Covid-19 pandemic. We have put protocols in place to ensure the safety of patients and staff in line with Public Health guidelines.  We have changed the way we manage
GP consultations.  At times of High demand/surge in cases, you may have a telephone consultation and then the doctor will arrange an examination at the surgery, if medically necessary.  To comply with Public Health guidelines your visit to the surgery will be less than 15 minutes as your medical history will have been taken at the telephone consultation.  Please be aware that Telephone Consultations will be charged at a lower rate of 50 euros for non medical card holders.
We will continue to deal with everyday medical issues that occur during this period including routine pregnancy care, childhood vaccinations, and urgent blood tests/investigations.  
We understand that this is a very challenging time.  Your patience is appreciated while we adjust to this new working environment.
If you cannot get through to the surgery and it is an emergency please call 999  or 112 for an urgent ambulance.
Home Isolation & Restricted Movement Information
www2.hse.ie/conditions/covid19/restricted-movements/restricted-movements/


We operate an appointment based practice. Please phone reception on
01 849 5500
to arrange an appointment with our doctors or nurse.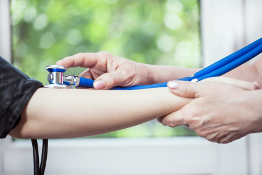 We offer a range of services to our patients from both day-to-day routine visits to the more complex consultation.  For full details click the link below.  
Opening Hours
Reception is open for calls from  

08:30-12:30   - Monday - Friday 
         &
14:00-17:00  - Monday - Friday 

A Doctor is not onsite until 9.15am so please do not attend the surgery without an appointment

Appointment Times:
Currently during this pandemic, for the safety of both patients and staff, appointments will only be issued following a telephone consultation first

Medical Emergencies Only between 17:00-17.45
can contact us on the emergency number listed on our answering machine. 

Out of Hours 
D-Doc provide our our of hours care - for an appointment call 
1850 224477
  This service is available from 6pm-8am weekdays and from 6pm on Friday until 8am on Monday.

Christmas Opening Hours 2021/22
A limited emergency/Urgent Care/Covid Telephone Triage clinic
will be in operation on the following dates and times
Friday 24th December 09:00-11:00
---
Wednesday 29th December   09:00 – 12:00
Thursday 30th December  09:00 – 12:00
Friday 31st December  09:00 – 12:00
As these clinics are for Emergencies bookings will not be taken in advance
Normal Services Resume on Tuesday 4th January 2022
D-Doc is in operation and providing out of hours cover - Please phone 1850 224477 for more information